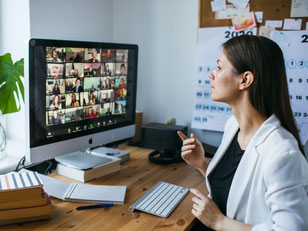 Remote working used to be the exception rather than the rule. But now like it or not everyone is working from home. We all have to make the effort of learning to use video conferencing and sharing technology effectively. And that opens up wonderful opportunities. 
As a regular facilitator of training, workshops and discussions I've been studying how best to use video online. Over the last few weeks, I've learned that video workshops and conferences can be very effective—more so, even, than physical ones. But good Online Workshops are not the 'chalk and talk' events that we associate with physical conferences and conventional webinars. Oh no! Without networking breaks and meals together, and lacking nudges to keep people awake in the presentations, 'chalk and talk' online events can become a sad waste of time. 
So how can you make an Online Workshop effective? Over the last few weeks, with help from Judy Rees and others, I've identified some instructions and guidelines for running them and participating, which I'll share here. All these suggestions are currently free, or if not, like Microsoft Office and Blackboard Collaborate, I've given free alternatives.
The organiser's role
As workshop organiser, you'll need to do three things that are particularly different from physical workshops:
Ensure there's regular interaction, so that participants stay engaged. 
Always help and encourage participants to show themselves on video if at all possible, so they're 'in the room'.
Aim to have at least 10 minutes' break in every hour. Online video interaction is intense, so people need more breaks. And keep things simple by telling the participants the time to reconvene, rather than the length of a break.
In terms of interaction, ensure that you regularly ask (every 10 minutes or so) for every participant to react or participate in some way. Such participation is usually either interaction with the leader, or interaction with other participants. Here's how.
Creating interaction with the leader
The simplest interaction is with a single leader or presenter for the event. Here are some suggestions; all of these techniques work well. 
Invite questions, suggestions, or responses in the 'chat' text discussion window.
Request 'thumbs up' or a wave via video. 
Use Mentimeter or similar to show group feedback. Show the results—barcharts, word clouds and the like—immediately by sharing your screen. 
For teaching, use quizzes, with your tool's built-in quiz feature, with Mentimeter, or with a variety of other possibilities. 
Get individual participants to briefly present something to the group.
Creating interaction with other participants
Better still is for participants to interact with each other, since many people learn best from structured discussions. But video conferencing only really allows one discussion at a time, so for groups of more than three or four people it doesn't offer effective interaction. Instead, you need 'Breakout rooms': multiple sub-sessions of a few participants each. 
Next, you need something to help each breakout group collaborate. This might mean specifying a discussion format; or it might require a shared canvas of some kind to work on.
The simplest type of shared canvas is for one person to be scribe and share their screen (or simply hold a page up to their camera) so that everyone can see the document they've created. Even more collaborative is a shared document that everyone can edit at the same time. There are lots of options for such shared documents nowadays:
Google Jamboard – Trivial-to-learn post-it notes on whiteboards.
PowerPoint documents on a sharing service (SharePoint, Dropbox or Box), or Google Sheets. This is particularly good for activities involving 'cards' such as games.
Shared whiteboards for sketching – some video conferencing services include these.
A text document or spreadsheet, using Word, Excel on a sharing service, or on Google Docs.
Tools for specific purposes, such as Trello.
Being a participant
Finally, each participant has a role to play. Here are some guidelines:
Always keep the webinar link handy. It's frustrating if you can't quickly get back when you're cut off.
Have a good setup for your calls: microphone, camera, background. See suggestions from the Wirecutter.
Make sure you capture any output that you need, using screenshots or saving text with shared links and email addresses (in Zoom that means manually saving the text before leaving).
Putting this all together
These are the building blocks for good Online Workshops. There are many different ways to use them to make effective sessions, such as 1:2:4, or one of Mural's 'remote friendly methods'. Experiment, and practice, practice, practice!
Indeed, with well-organised interactive sessions, Online Workshops can be as much fun, and more effective, than physical workshops; try some of these ideas yourself and find out!
 - Charles
Credit: Much of this knowledge came directly and indirectly from online facilitation experts Judy Rees and Steve McCann.
Photo credit: Girts Ragelis / Shutterstock.com